Zucchini is summer's magical vegetable - it is so versatile and so hard to mess up. Zucchini may be eaten raw - chopped, sliced, or grated in salads. It can also be cooked, grilled, roasted, baked, etc. Try grating it and adding to your recipes to enhance eggs, hamburgers, brownies, meatloaf, casseroles, etc.
Store in refrigerator for no more than 2 weeks.
ZUCCHINI PATTIES
1 C Bisquick
½ C mozzarella cheese, shredded
2 eggs, beaten
2 C zucchini, shredded
¼ C onion, diced
¼ t each salt and pepper
1-2 T butter
Combine all ingredients, except butter, in a bowl and stir by hand; blend well. Melt butter in skillet (1 T / batch). Spoon heaping tablespoons of batter into skillet. Fry for 3-5 minutes/side until golden brown. Serve immediately. Serves 5.
Garnish with dollop of sour cream and chives or bacon crumbles (optional).
Here's a recipe the older boys learned to make many years ago while visiting a Farmer's Market in Pittsburgh...
SPAGHETTI WITH ZUCCHINI & BASIL
1.5 lbs. zucchini (@ 3 small)
1/3 – ½ C olive oil
2 cloves garlic, thinly sliced
Salt and pepper
1 lb. spaghetti
½ C grated Parmesan cheese (or more if desired)
handful of basil leaves, chopped
½ C half-and-half
Bring a pot of water to boil for the pasta. Meanwhile, quarter the zucchini lengthwise, then cut into ½-inch pieces. In a skillet, warm the oil with
garlic, then add zucchini and season with salt and pepper. Cook gently over medium heat, stirring often until zucchini is soft and browned, about
20 minutes. Add half-and-half and cook 10 additional minutes; stirring frequently.

Once water is boiling, cook spaghetti according to package directions. (For good timing, add pasta to water just before you add the half-and-half to the zucchini.) Drain and toss pasta with zucchini, cheese, and basil. Season with salt and pepper to taste.
Squash Saute
2 zucchini, sliced
2 yellow squash, sliced
2 cloves garlic, minced
1 T. Olive oil
1/2 cup shredded mozzarella cheese
2 T. chopped basil
2 T. parmensan cheese
Cook zucchini and squash in hot oil in large skillet on medium heat 3 min., stirring occasionally. Add garlic; cook 3 min. or until vegetables are crisp tender.
Remove from heat; cover with both cheeses and basil.
Optional: add diced onion
Zucchini Crisp
8 cups cubed, peeled zucchini
1/2 cup lemon juice
1/2 to 3/4 cup sugar
2 tsp ground cinnamon
1 tsp ground nutmeg
Topping:
1 and 1/3 cups packed brown sugar
1 cup old-fashioned oats
1 cup flour
2/3 cup cold butter, cubed
Directions
In a bowl, combine the zucchini, lemon juice, sugar, cinnamon, and nutmeg; mix well. Pour into a greased 13 by 9 in baking dish.
For topping, combine brown sugar, oats, and flour in a bowl; cut in butter until crumbly. Sprinkle over the zucchini mixture. Bake at 375 degrees for 45-50 mins. or until bubbly and the zucchini is tender.
Zucchini Soup
2lb mild Italian sausage or hot sausage, fried good and browned
Add: 2 cup chopped celery, cook 10 min, drain off any grease and add to:
1qt tomatoes
14 oz can tomato sauce
1 cup chopped onion
2 cups chopped green pepper
2 T sugar
1 tsp oregano
1 tsp Italian Seasoning
1/4 tsp. garlic salt
Zucchini (cut in pieces) cubes
Cook 1 1/2 to 2 hours
You can put in as miuch zucchini as you want. If they are huge, use 2. If they are small, use 4. It will look like a lot of zucchini but it is not, it shrinks as it cooks.
It has the consistency of chili.
Parmesan Zucchini Corn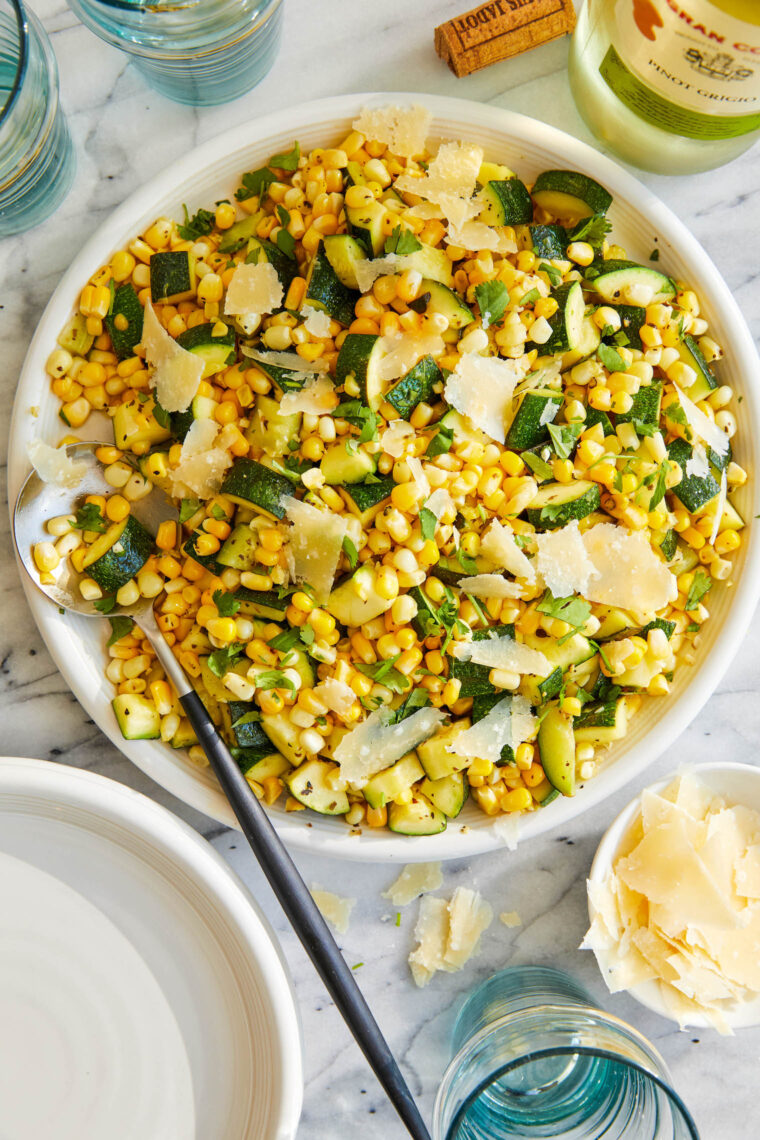 2 tablespoons olive oil
3 cloves garlic, minced
4 zucchinis, diced
1 cup corn kernels, frozen, canned or roasted
1/4 teaspoon dried basil
1/4 teaspoon dried oregano
1/4 teaspoon dried thyme
Kosher salt and freshly ground black pepper, to taste
Juice of 1 lime
2 tablespoons chopped fresh cilantro leaves
1/2 cup shaved Parmesan
Heat olive oil in a large skillet over medium high heat. Add garlic, and cook, stirring frequently, until fragrant, about 1 minute.
Stir in zucchini, corn, basil, oregano and thyme. Cook, stirring occasionally, until zucchini is tender and cooked through, about 4-5 minutes; season with salt and pepper, to taste. Stir in lime juice and cilantro.
Serve immediately, topped with Parmesan.