To store, put in a bag in the refrigerator.
To prepare, simply rinse in cold water.
The most popular recipe is eggplant paremsan. But eggplant is also delicous grilled and put on a sandwich or grilled and eaten as a side. Some casserole dishes call for eggplant.
Eggplant Paremsan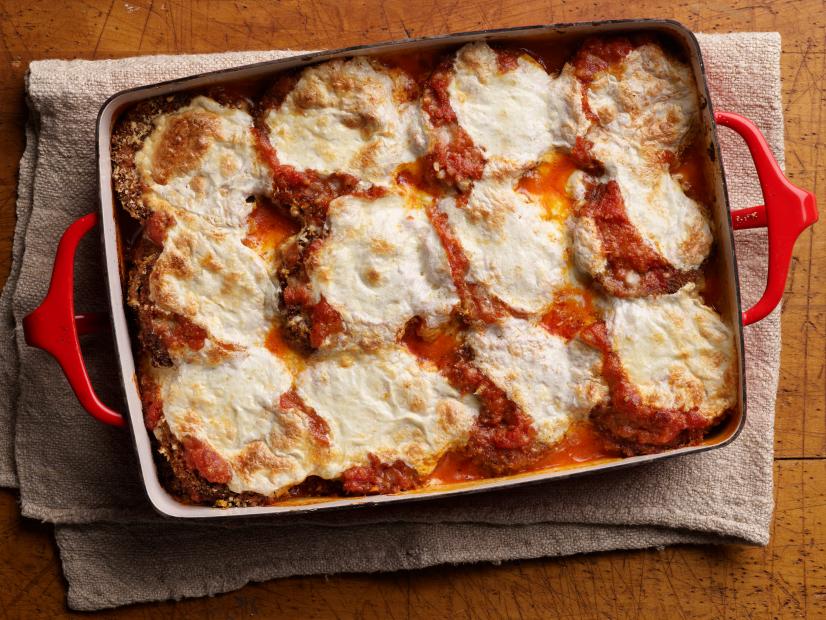 Ingredients:
Arrange the eggplant slices on several baking sheets and sprinkle generously all over with kosher salt. Set aside to let the bitter juices weep from the eggplant, about 1 hour.
Transfer the eggplant to a colander in the sink, and rinse well under cold running water. Transfer eggplant to a work surface and blot very dry with paper towels.
In a large bowl, whisk together the 1 1/2 teaspoons salt, breadcrumbs, oregano, thyme, and season with pepper.
Place the flour in a medium lipped plate or bowl. In another medium bowl, whisk the egg and milk together. Dredge an eggplant slice in the flour, then dip it in the egg, and finally dredge it in the breadcrumb mixture. Shake off any excess breading and transfer the eggplant to a baking sheet. Repeat with the remaining eggplant.
In a large straight-sided skillet, pour the oil to a depth of 1/2 inch. Heat the oil over medium heat until it registers 400 degrees F on a deep frying thermometer. (The oil must be heated to 400 degrees F. so that the breaded eggplant, when added, will drop the temperature of the oil to the proper frying temperature of 375 degrees F.)
Working in small batches, fry the eggplant slices, turning once, until golden brown, about 3 minutes per batch. Using tongs, transfer to a paper towel-lined baking sheet and season with salt to taste. Repeat with the remaining eggplant.
Preheat the oven to 400 degrees F. Lightly brush a 15 x 10- x 2-inch-baking dish with olive oil. Cover the bottom of the baking dish with 1/3 of the marinara sauce and arrange half of the eggplant over the sauce. Cover the eggplant with another 1/3 of the sauce. Scatter half of the Parmesan and half of the mozzarella over the sauced eggplant. Repeat with the remaining eggplant, sauce, Parmesan, and mozzarella. Bake until hot and just beginning to brown, about 30 minutes. Serve immediately. (foodnetwork)
Breaded Eggplant:
2

medium eggplants, peeled and cut crosswise (I cut 1/4-1/2 inch wide)

1

tablespoon kosher salt (I use less about a teaspoon)

4

cups breadcrumbs (best from dense white bread, French bread, preferably NOT the kind from the can)

1

cup grated parmesan cheese

1

cup all-purpose flour

1

teaspoon ground pepper

4

large eggs, beaten

6

tablespoons vegetable oil (I've used olive, too)
Start by draining the eggplant: layer sliced eggplant with gentle sprinkle of salt in a colander and place a plate or lid on top). The eggplant will leak out about 2 tbs. of moisture (about a half hour-sometimes I just do set it about 15 minutes and that seems to work, too).
I lightly wipe excess salt off with damp paper towel.
Heat oven to 425 degrees. Prepare cookie sheet/jelly roll pan with half the oil and heat in oven while dipping/breading the eggplant.
Mix together flour and pepper and put in large Zip-lock bag.
Mix Parmesan and bread crumbs and put in pie plate.

Dipping process:

Place about 10 slices at a time in flour and shake to coat lightly.
Dip eggplant in beaten egg (I use a cereal bowl to dip).
Dredge in bread crumb mixture.
Line, without overlapping, eggplant onto cookie sheet.
Bake for about 10-15 minutes until bottoms are lightly browned, and flip and finish cooking the other side.
Repeat with remaining eggplant.
Remove and cool on a wire rack. (Food.com)
Make a sandwich with bread, lettuce, tomato and mayo.